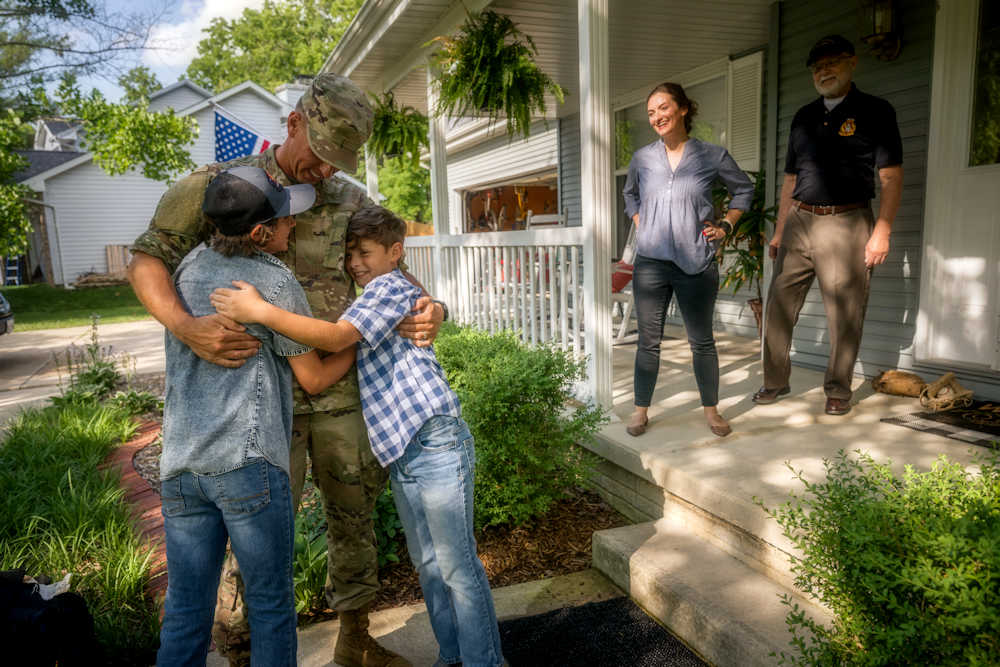 Our nation owes an incredible debt to the brave men and women who have served and are serving in the armed forces at all levels. A great debt is also owed to the families of veterans and those currently enlisted — they, too, make unfathomable sacrifices in the name of keeping America safe and free. While these debts can never truly be paid, we can all do our part toward that balance in November by celebrating National Veterans and Military Families Month.
The Defence Department celebrates National Veterans and Military Families Month each November, leveraging it as an opportunity to recognize these sacrifices and provide access to vital resources. November 11 also marks Veterans Day — formerly Armistice Day, which marks the anniversary of the armistice that ended World War I. Together, these occasions make November the ideal time to reflect on the pivotal role that members of the military and their families play in safeguarding the fabric of American society, and to note how Rollx Vans helps veterans across the country enjoy the independence they so richly deserve.
The History of Veterans Day and National Veterans and Military Families Month
Veterans Day is a longstanding American tradition that dates back to November 11, 1919 — a year after the signing of the Armistice of Compiègne, which effectively ended World War I on the 11th hour of the 11th day of the 11th month of 1918. President Woodrow Wilson declared this date Armistice Day, one that would be "filled with solemn pride in the heroism of those who died in the country's service, and with gratitude for the victory." A 1938 congressional act made Armistice Day an official holiday.
Sadly, WWI was, contrary to the term often applied to it, not the war to end all wars. After World War II, veteran Raymond Weeks put forth the idea of changing the holiday to recognize veterans of all wars, including those that would come henceforth. A bill changing the name of the holiday to Veterans Day was signed in 1954, and that's the name by which the holiday has been known for the past nearly 60 years.
Making November a monthlong tribute to military families is a more recent and much-welcomed tradition. The Armed Services YMCA celebrated the first Military Family Appreciation Month in 1996 as a way to recognize and honor the sacrifices made and hardships endured by military families. It has since expanded to loop in Veterans Day, becoming National Veterans and Military Families Month.
Each year, National Veterans and Military Families Month is marked by an official proclamation from the President of the United States. On Halloween, President Joe Biden made the proclamation for 2023, acknowledging the role of the military family in keeping America strong:
"To all the mothers and fathers, sisters and brothers, sons and daughters, spouses and partners, and loved ones who stand alongside our veterans and service members: You are the solid steel spine that bears up under every burden and the courageous heart that rises to every challenge."
How To Commemorate Veterans Day and National Veterans and Military Families Month
Veterans Day is a recognized federal holiday, which means that federal employees and members of the military do not work on Nov. 11 no matter the day on which it falls. As this year's holiday falls on a Saturday, a day on which government services are already closed, it will be observed on Friday, Nov. 10. Many schools and businesses will also observe the holiday on Friday.
Veterans Day is often marked by celebrations and ceremonies honoring veterans, including right here in our home of Savage, Minnesota. The Dan Patch American Legion Post 643 on Princeton Ave. will host a Veterans Day breakfast on Saturday from 9 a.m. to noon, and it will be free to all veterans and active military. That same morning, the Veterans Memorial Community Center in Inver Grove Heights will host the annual State of Minnesota Veterans Day Event, which kicks off at 8:30 a.m. with breakfast and official programming at 10 a.m.
Veterans Day and National Veterans and Military Families Month is also an excellent time for veterans and families to get connected with helpful resources. Military OneSource, for example, is commemorating National Veterans and Military Families Month with a free family cookbook and by signal-boosting its network of 24/7 consultants and other wellness-focused resources.
Rollx Vans Is Proud to Support Veterans and Military Families
When it comes to offering reliable mobility solutions for veterans and military families, Rollx Vans is proud to be one of America's leaders. Our wonderful team includes dedicated Veteran Solutions Specialists who work closely both with veterans and the Department of Veterans Affairs, ensuring a smooth and satisfactory experience all around.
Money-saving rebates and offers are among the many benefits of working with Rollx Vans when shopping for your next accessible vehicle. You may qualify for our Rollx Veteran Special, which is a $1,000 rebate toward the purchase of your first vehicle purchased with VA funding, as well as a $1,000 OEM Manufacturer Mobility Rebate. If you have an older vehicle to trade in, we can offer an additional $1,000 in Rollx Veteran Trade Allowance.
And we can help see if you qualify for up to $20,235 in grant coverage through the VA Auto Adaptive Program. If you've purchased an accessible vehicle in the past and used a VA grant, we can also work to see if you qualify for an adaptive vehicle grant under the newly passed Advancing Uniform Transportation Opportunities for Veterans Act.
Rollx Vans has been working for 45 years to help veterans and military families by offering safe, affordable, and reliable vehicles. We're proud of the work we do, and we're honored to have helped thousands of brave men and women across the great country that they helped keep free. If you're a veteran or a military family member and you need a wheelchair-accessible vehicle, please contact our Veterans Solutions Specialists at 800-956-6668.