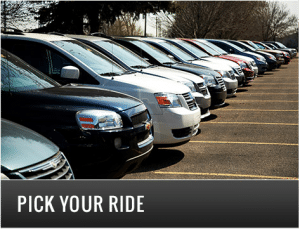 It's no secret that we have a lot of wheelchair vehicles for sale. While you can browse our available inventory at any time, we also give you the option of building the wheelchair van that perfectly suits your lifestyle. This is one of the largest benefits of buying direct from a manufacturer like us.
When you go to a dealer, you are limited to what they have on the lot and what they can possibly order. When you work with Rollx Vans, we will build you the exact accessible vehicle that you want.
How to Pick Your Ride
Our motto is simple: Your Life. Your Ride. That's why you can use our Pick Your Ride Feature to start building the vehicle you want.
And this guide will help you get started choosing the right wheelchair van.
On our Pick Your Ride Page, you will see a form that you can fill out to get started. You can access that form by clicking here.
After entering your basic contact information (so that we can get in touch with you to learn more about what you want in your vehicle), you will be asked to tell our team about your dream vehicle.
Here is a short breakdown and explanation of what that entails:
Vehicle of Interest
You can choose between New or Used Vans, as well as Minivans and Full-sized vans. To learn more about choosing between new and used and full-size and minivans, read our buyer's guide here.
Vehicle Make and Model
We sell and convert vehicle models from companies like Chrysler, Ford, Dodge, GMC and many more. Each one of these vehicles can be easily converted to meet your needs, so this choice comes down to your preference in brand. There are minor differences among the vehicle models, all of which you can learn more about by contacting us or reading about them on the following pages:
Vehicle Price, Miles and Year
In these three sections, you can choose how many miles you want on your vehicle, the year it was made and the price range you are looking to stay within. Older vehicles with more miles on them will cost less. We will help you find a vehicle that fits within your desired price!
Person Using a Wheelchair…
These next two sections ask about the conversion options you will want. If the wheelchair-using person will be driving the vehicle, hand driving controls will need to be installed.
From there you have two options:
The driver can use a transfer seat to move from the wheelchair into the driver's seat

Remove the driver's seat completely and install a power tie down system to secure the driver with his or her wheelchair.
You can learn more about conversion options like transfer seats, hand driving controls and wheelchair tie downs by reading our buyer's guide here.
Primary Use of Vehicle
If you are buying a wheelchair van to use as your personal vehicle, select "Personal Use." If you work for a company that will be using the vehicle for commercial purposes, it will need to be ADA Compliant, so choose "Business, ADA Compliant."
Rollx Vans partners with commercial organizations like The Association for Driver Rehabilitation Specialists.
Drop Floor Conversion and Entry Location
Some people, especially those who use larger wheelchairs, need a bit more headroom, that's why we offer different interior heights with our accessible vehicles. We lower the floors on our vehicles and still leave plenty of ground clearance! You can also choose to raise the roof and extend the height of doors, as well.
We are also happy to offer side and rear entry options. These are just a few more ways you can customize your vehicle to your liking.
You can read a lot more about our conversion options here.
Extended Service and Financing
We don't stop at customizing the physical features of your vehicle. From service contracts to vehicle financing, we offer you plenty of options to pay for and maintain your wheelchair accessible vehicle.
To learn more about our financing options, visit our financing page.
You can read more about how we can help you obtain VA and state aid here. You can also read more about our extended services contract here.
Leave Us a Message!
The final portion of the form is open for you to make any other vehicle requests and to ask any questions you may have. From there, just hit the "Pick Your Ride" button and your request will be sent to our team! We will review it and get back to you shortly.
We want to make sure you have everything you need for choosing the right handicap van. Connect with us if there's anything more we can do to help!